Sensoren auf der Trampolinmatte verbinden sich über Bluetooth® mit Ihrem Tablet. Mit Ihrem Körper als Regulator, verfolgen die Sensoren Ihre Bewegung , es ist ein interaktives Erlebnis. Dank Tgoma üben Sie Ihren Körper so wie das Gehirn und Familien haben ein weiteren Grund nach draußen zu gehen um aktiv zu sein.
Gehen Sie draußen, aktiv sein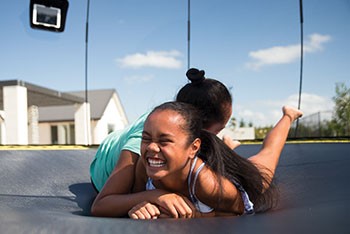 Kluger Spaß für aktive Familien
Es ist bekannt, dass Eltern einen Weg versuchen zu finden, wie Ihre Kinder mehr Zeit im Freien verbringen sollen. Springfree ist das einzig kluge Trampolin, dass digital interaktiv ist und fördert sicheren Spaß im Freien.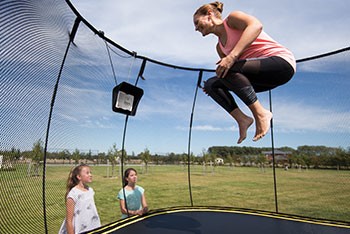 Mehr Zeit im Freien mit der Familie
Tgomas Spiele und Anwendungen wurden erschaffen, damit die ganze Familie auf spielerische Weise körperlich aktiv ist und mehr Zeit zusammen im Garten verbringt.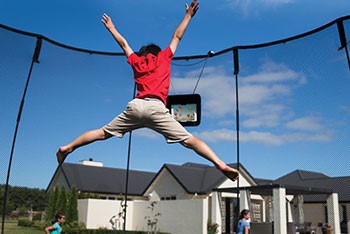 Trainieren Sie Ihren Körper und Geist
Tgoma hat viele verschidene Spiele, fürs Springen, Lernspiele oder andere Aktivitäten für die ganze Familien. Lernspiele sind eine gute Alternative, wie man mehr Spaß am Lernen hat. TgomaFit hilft Ihnen, Ihre pörsenliche Fitness Ziele zu erreichen und einen gesünderen Lebenstil zu starten.
Spring mit uns
Verwenden Sie tgoma um Ihre Leistung messen zu können – Anzahl der Sprünge, Kalorienverbrauch usw. Vergleichen Sie ihre Leistung mit Athleten auf der ganzen Welt.
Weltweite Anzahl der Sprünge:
Weltweit verbrannte Kalorien:
Desshalb lieben Familien Tgoma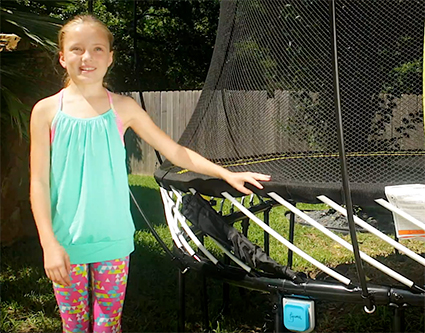 Wenn shon tablet dann wenigstens draußen. Nimm das Spiel ins Freie und verbinde es mit Bewegung
Kyrstal Hurst Dallas, USA
Unsere Spiele werden Sie und vor allem Ihre Kinder begeistern. Von Kinder im Alter von ca. 5 Jah bis 13 Jahren interessant.
Wir haben Lernspiele entwickelt die Spass machen – damit Kinder gleichzeitig lernen und sich bewegen können!
tgomaFit wurde von einem erstklassigen Trampolin-Trainer und Personal Trainer entwickelt, der Ihnen das ultimative Fitness-Training in Ihrem eigenen Garten bietet.
tgomaFit

Exercise along with a professional trampoline coach, and watch your calories burn in real-time. Choose from 26 trampoline exercises, or select a pre-set workout (Core Workout, Aerobic Fit, etc). Forget the gym, everything you need is in your backyard.

Suitable for adults and teens.

Free Bounce

This app shows users their personal jump data in real-time. The fun footprints display jumps on the mat at the same time the tracker shows how many jumps, calories burned, the total height jumped as well as the time spent jumping. Use this data to create your own family jumping challenges!

Ideal for older kids, although very engaging for younger jumpers.
Eigenschaften
Dabei geht es nicht nur ums spielen. Tgoma verfolgt Ihre Aktiveziele und Fortschritte und lässt Sie an verschiedene weltweite online Spiele oder Ereignisse teilzunehmen.
Um weitere App-Funktionen anzuzeigen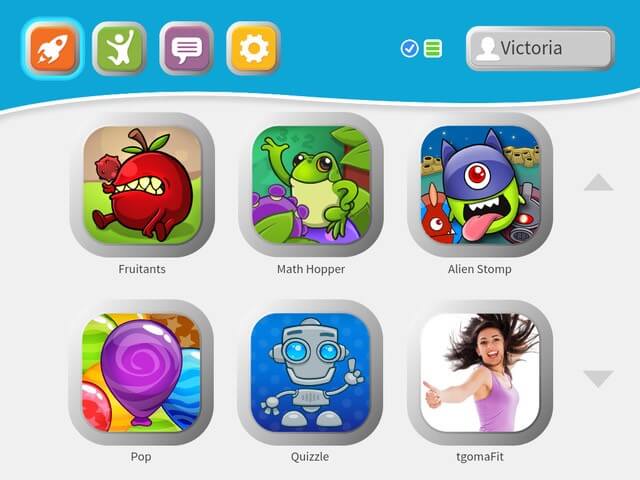 JumpFit
Greifen Sie auf Ihre persönlichen Springen und Ziele zu!
---
Einfach zu navigieren für alle Altersgruppen!
News & Veranstaltungen
Bleiben Sie up-to-date mit monatlichen weltweiten Veranstaltungen und Herausforderungen!
---
Online shop
Überprüfen Sie regelmäß unseren Shop, damit Sie immer neue Spiele ausprobieren können.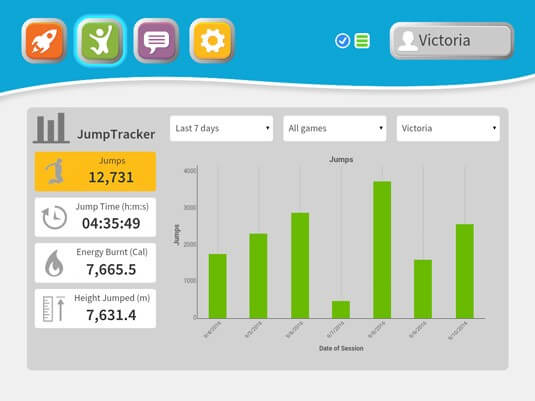 Aktivität Statistik
Verfolgen Sie Ihre Fortschritte, die Zeit auf dem Trampolin, verbrannte Kalorien, wieviel Sprünge haben Sie geschafft oder auch die Höhe des Sprunges.
Graphen
Beobachten Sie, wie sie sich verbessern. Die Graphen zeigen Ihnen die Verbesserungen und Ihre Ausdauer.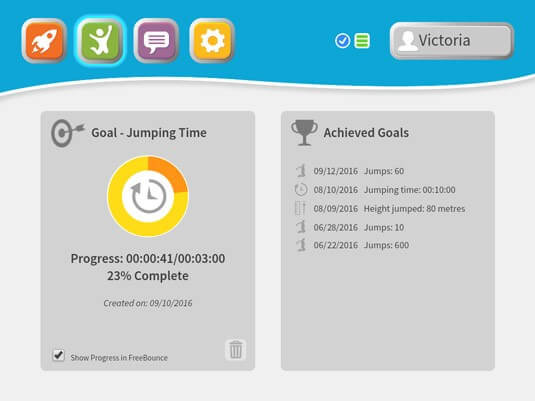 Setzen Sie sich Ihr persönliches Ziel!
Verbrennen Sie 1000 Kalorien, springen Sie 500 Sprünge oder springen Sie 10 Minuten. Es ist ein guter Weg, die Kinder zu Bewegung zu zwingen um aktiver zu sein.
Folgen Sie die Geschichte Ihres Erfolges
Die Geschichte Ihres Erfolges können Sie jederzeit, wenn Sie verbunden sind, sehen, so dass Sie Ihre Fortschritte verfolgen können.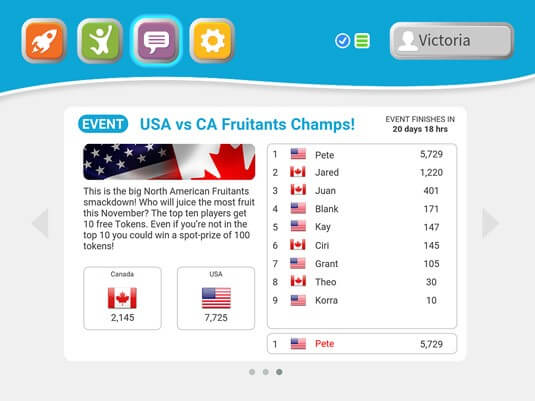 Weltweite Wettbewerbe!
Sie können ein Teil der weltweiten Wettbewerbe sein und vergleichen Sie Ihre Leistungen mit Athleten aus der ganze Welt. Sie können die beste auf der Welt sein!
Tabellen
Vergleichen Sie sich mit Athleten aus der ganzen Welt. Seien Sie berühmt!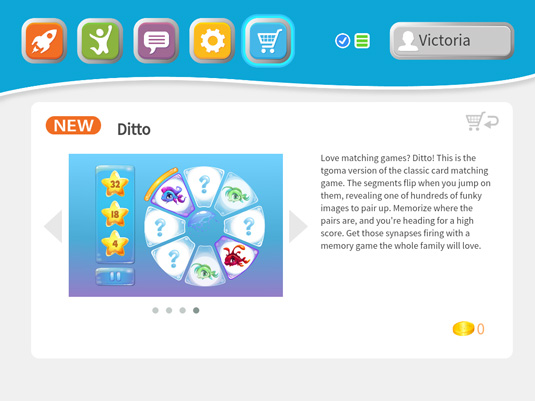 Game and App Store
Wir fügen regelmäßig neue Spiele und Anwendungen in unseren Online Shop. Überprüfen Sie regelmäß unseren Shop, damit Sie immer neue Spiele ausprobieren können.